The 4th Annual H. Del Beekley Rowing Foundation Golf Tournament was held on Saturday, February 12th 2022 at the South Course of the highly rated Admiral Baker Golf Course in San Diego. As our largest tournament held to date, this event hosted 40 participants consisting of current and former Athletes ranging from 1979 to 2022, as well as Head Coach Craig Doan and other friends of the program.
The event saw our first foursome tee off at 7:45 AM and the 10th foursome got underway just before 9:00 AM. Thanks to alumnus Matt Pawlak, the teams were able to use real-time online scoring to track their foursomes scores against the other teams as they progressed through the course. Thankfully the scoring platform didn't track real-time trash talking, because there was plenty of friendly banter between the teams out on the course.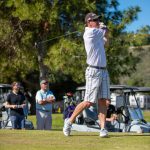 Aside from the main tournament, the golfers individually had the opportunity to participate in two on-course challenges. The first was the "Closest to the Hole" challenge held on the shortest hole of the course, at just 170 yards from the tee to the hole. Alumnus Matt Pawlak (2001-2004) took the prize by landing his tee shot just 43 feet and 11 inches from the hole!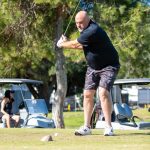 By the time the teams made it to hole 14, they were greeted by our second challenge, the "Longest Drive". This hole was particularly well suited for a long straight drive down the fairway, and alumnus Aaron Pollock (1989-1990) answered the call by unleashing a 309 yard drive to take the victory.
By about midpoint in the tournament there was one foursome that started to amass a bit of a lead, and had the envy of the rest of the field. After finishing up on the 18th hole, the team of alumnus Rick Miller (2006-2008) had set what would be the tournament winning score of 62 at 10 under par! Detailed results from the event as well as a list of all of our pairings can be found at our Tournament site,
After the remaining foursomes finished the course, we all gathered on the back patio of the River's Edge Cafe for some much needed food, refreshment, and shade from the unusually warm February day. Once everyone got settled we kicked off our awards ceremony and raffled off the amazing prizes donated by the generous sponsors of this year's event!
Special thanks go out to our two Tee Sponsors, ABTECH Technologies and OTTO Inc, as well as all that contributed prizes for our raffle, including Jackie's Jam, The Body Remedy, The Lost Cause Meadery, Michelob Ultra, Admiral Baker Golf Course, Bankers Hill Orange Theory, our Board members, and Matt Pawlak.