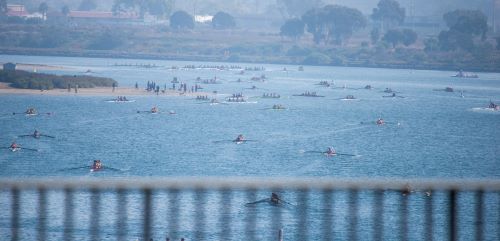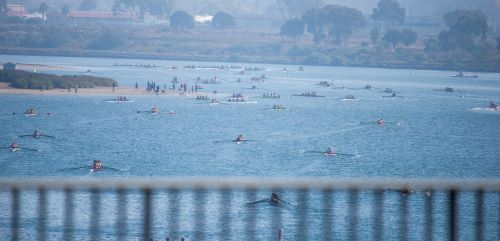 Aztec Football Tailgate – This Friday November 15th
This Friday (11/15) is the Alumni tailgate party right before the SDSU/Fresno State football game. The football team is 7-2 so it's a great time to see an Aztec game and catch up with fellow rowing alumni, plus meet the current team. We will be grilling up Burgers and Dogs, and some BBQ Pulled Pork to feast on while you hang out with your friends and talk with the current team!  So, head on over to section H3 anytime after 5 PM where we're planning to have an oar standing as the flag at our tent. Tickets to the game can be purchased here
Team Update
The team had a solid showing for their first race of the year on their home course at the San Diego Fall Classic this past weekend.  With only 2 returners from last years Varsity 8, this years varsity squad came in 12th out of a field of 21 in their first showing. Then, the Novice 8 pulled their way to a 4th place finish out of 10.  Keep your eye out for a full post from Coach Craig on AztecRowing.com. Meanwhile, the team is busily working to prepare for their next race at the Port of LA on Nov 24th!
Alumni Row
This year we fielded 4 eights with Alumni filling out the engine room, Varsity rowers in stroke pair, and some select Novices in bow pair.  This years' alumni had representation from every decade since the mid 1970's, all the way to athletes that just graduated last year. It's amazing and encouraging to see how many have continued their involvement in the sport and are still rowing nearby at SDRC.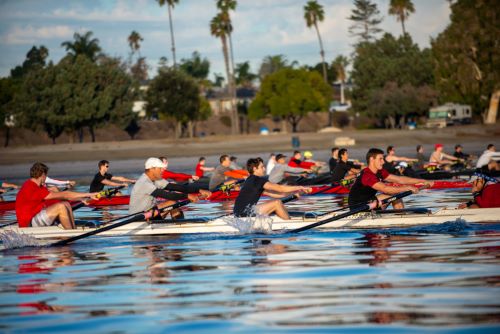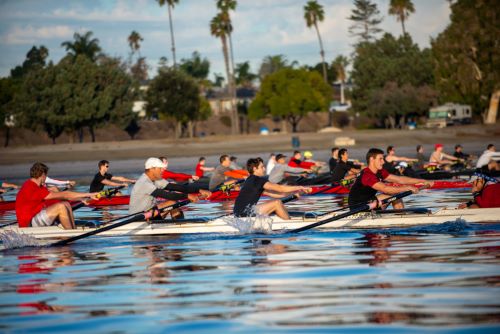 New Boat Dedication @ Crew Classic
Last year, the foundation prioritized the purchase of a 8+ racing shell. The team was incredibly grateful for the new equipment, which has complemented their fleet well. A tremendous thank you goes out to all the contributors for this shell. Plans are currently being made to host an event for the boat naming and dedication over the weekend of the San Diego Crew Classic on the weekend of April 4-5th.
Upcoming Events
| | |
| --- | --- |
| DATE | EVENT |
| November 15, 2019 | Football Game/Tailgate |
| November 24, 2019 | Port of LA @ USC |
| February 8, 2019 | H. Del Beekley Annual Golf Tournament |
| April 4-5, 2020 | San Diego Crew Classic, Mission Bay |
| April 5, 2020 | H Del Beekley Annual Meeting |