This Fall the team welcomed 25 new novice rowers and coxswains bringing the team total to 50, with 25 athletes on varsity. They had 3 races (Head of the American, San Diego Fall Classic, and Head of the Harbor) and are looking forward to the spring racing season. You can read a recap of the fall season here.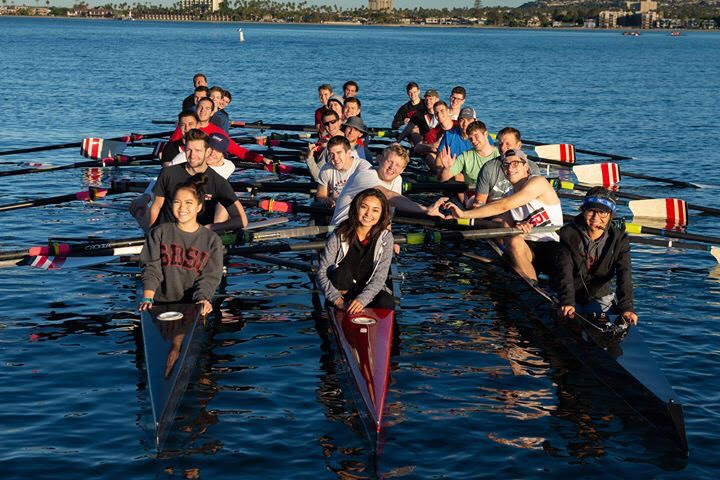 Thank you to all who attended the fall alumni row and homecoming tailgate on October 20th. 18 alumni took to the waters of Mission Bay to practice alongside the current team. Later in the day, over 50 alumni, family, and friends gathered in the SDCCU Stadium parking lot to share stories and catch up with old teammates over a delicious barbecue dinner and libations.
Annual Golf Tournament 2019
We will be hosting our 2nd annual golf tournament this year on February 9th, 2019 at the iconic Balboa Park Golf Course (2600 Golf Course Dr, San Diego, CA 92102). The Tournament participants will play 18 holes in a Scramble format, and will be greeted by current rowers, coxswains and coaches at various holes.  

Golfers can participate for as little as $85/person (in a foursome) and sponsorships start at $150.  If you can't make it this year please consider sponsoring a rower. We are also selling packages that allow you to play with current team members to fill out your foursome.

Full details and registration for the event can be found here. (https://www.eventbrite.com/e/h-del-beekley-rowing-foundation-golf-tournament-2019-registration-53376455415)
Boat Fund Update
First and foremost we would like to thank the 40 donors and former Aztec Oarsmen and supporters that have come together this year to raise over $20,000 for the team and foundation. We are happy to announce that we are well on our way to meeting our commitment to purchase the team a boat in 2019. Please take your last opportunity of the 2018 tax year to make a donation today to help us close the gap on our last $11,000! 
Aztecs Spring Race Schedule
February 23th – Parker Cup – Newport Beach
March 2rd – Gruenberg Cup – Port of LA (USC boathouse)
March 10th – Newport Regatta – Newport
April 6th & 7th – San Diego Crew Classic – Mission Bay
April 27th-28th – WIRA – Sacramento
 Future Beekley Foundation Events
February 9th, 2019 – Golf Tournament
April 6-7 2019 – San Diego Crew Classic

The team will be racing all throughout the weekend
We'll be hosting our traditional Sunday BBQ and Annual meeting of the Foundation.
For the first time in several years, we'll be fielding a boat or two of Aztec Alumni