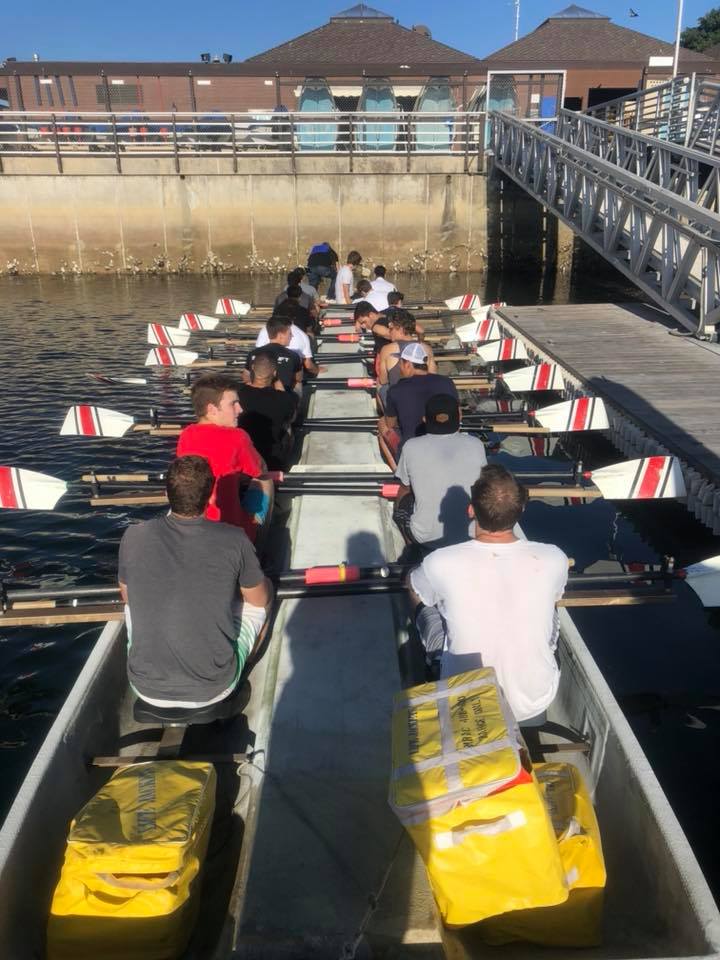 Boat Fund Update
With the Fall season here, it's time to redouble our effort toward the 10th Anniversary boat fund. The Foundation has raised more than ½ of the $35,000 needed to update the boathouse with a newer racing shell by Crew Classic. Replacing equipment is an ongoing challenge, and keeping the boathouse fresh with new and gently used equipment ensures the current and future success of the team. You can make donations to the boat fund at any time on the Donate section of our website. As is customary, the largest donor or group of donors will have first naming rights.
Special thanks to donors Kris Corley, Ed Baldry, Chris Anderson, Dustin Hinds, Joseph Dodson, and James Osborn for the contributions to the boat fund over the summer!
RSVP Today! – Alumni Row and Homecoming Tailgate
On October 20th, the team would like to invite our alumni oarsmen and coxswains to join the current aztecs in a mixed row (which is certain to end in a little racing) at the Mission Bay Aquatic Center Boathouse.  Those interested in rowing should reach out to Bernard at info@beekleyrowing.org to reserve a spot. We'll be meeting at 6:00 AM and plan to be off the water by 8:30 AM to give you plenty of time to rest up and join us at this season's Homecoming Game for the SDSU Men's Crew Alumni Tailgate!. 
Is the thought of getting back into a racing shell not quite your speed these days? No problem! We'll be grilling hot dogs, burgers, and some smoked meats before the Aztec football team takes on San Jose State at this year's Homecoming Game. Plan to head on down to the stadium and join us as early as 3:30 PM in section H3. We're asking for $5 per person to help offset the cost of the food, water, soda, and utensils. Please let us know if you plan on attending – and/or would like to provide something – so that we can ensure we have enough to go around. Because current team members are invited, we will not be providing alcohol. But if you so choose you can bring your own adult beverages (and remember that the stadium doesn't allow glass containers). This will be a great opportunity to meet the current team and swap war stories with other alumni.
Please send your RSVP or any questions about either event to info@beekleyrowing.org by Friday October 12.
 Aztecs Fall Race Schedule
10/27 – Head of the American, Lake Natoma, Sacramento, CA
11/11- Fall Classic, Mission Bay, San Diego, CA
11/24 – Newport Chase, Newport Beach, CA (select crews)
11/25 – Head of the Harbor, Port of Los Angeles, Los Angeles, CA (select crews)
 Future Beekley Foundation Events
Early February 2019 – Beekley Rowing Foundation Golf Tournament

Last year's event was a bunch of fun and we're looking to improve upon it this year. We'll be working to finalize a location and exact date in the coming couple of months, but wanted to get this in people's minds now!

April 6-7 2019 – San Diego Crew Classic

The team will be racing all throughout the weekend
We'll be hosting our usual Sunday BBQ and Annual meeting of the Board for the Foundation.
For the first time in several years, we'll be fielding a boat or two of Aztec Alumni