On November 20th, SDSU announced the discontinuation of the Women's Rowing Program. The Open Letter by the University describes their stance and reasoning for the decision. Unfortunately, there appears to be little opportunity for the Women's team to continue as a fully funded program after Spring 2021. The decision represents a loss for both San Diego State athletics and the rowing community at large, which has seen funding for many teams disappear due to budget cuts this year.
Coach Craig Doan and the athletes have been following this closely, and will update the board on women's rowing potential club status as the 2020-2021 season unfolds. The H. Del Beekley foundation is committed to supporting the team's decisions throughout this process and providing guidance as needed.
Both teams share facilities, including the boathouse and erg room that will be affected by this decision. The board is considering releasing funds to assist the Men's team, if necessary. It is possible that funds planned to be used for a new shell in 2021, may be utilized to help the team during this time. We will do the utmost to keep our membership informed of this as we assess the situation.
If any of our members have questions, or would like to discuss the state of the team, please reach out to us here directly at the H. Del Beekley Foundation.
Unfortunately, the state of COVID has led us to cancel our events this year. Despite this, the H Del Beekley is on track with its fundraising! Thank you to our monthly contributors, who have added great stability to our fundraising. We have been engaging alumni personally, and are working hard to expand our membership. Please consider donating to the 1925 Campaign and bring the team out of COVID strong!
Happy Holidays to all,
Bernard Aparicio
H Del Beekley President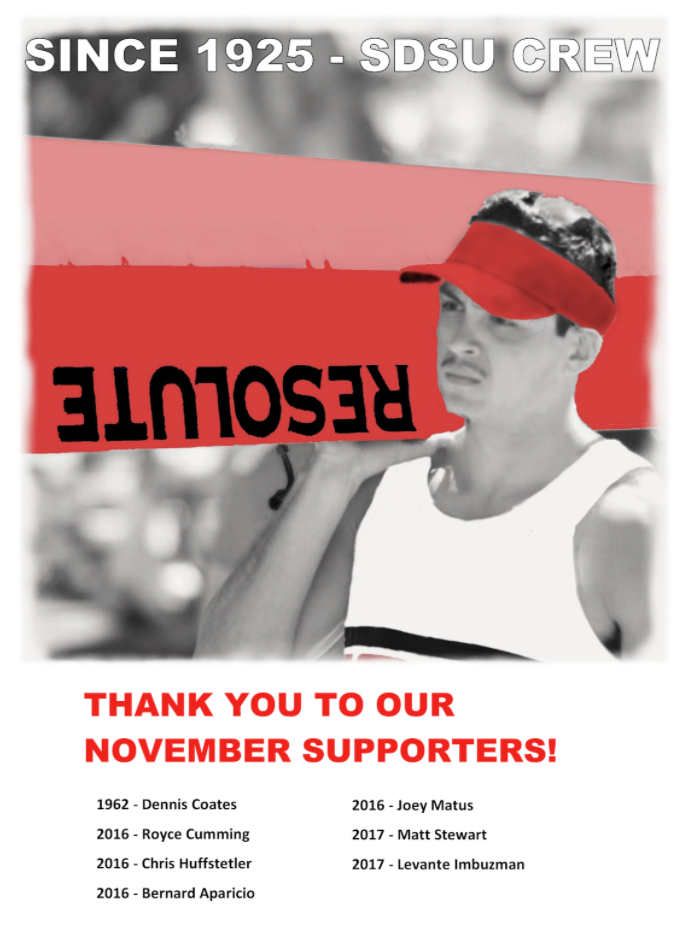 2020 brings uncertainty and challenges for the Aztec Rowing. Consider doing your part to help make the foundation successful by contributing to the foundation monthly via our online donation system.